Awards
Award Winning Practice
Leinster Regional Winner of the Sensodyne Sensitive Dentist Award 2009, this award recognises dentists who have gone the extra mile to treat their patients with compassion and professionalism. Dr. Enright engages in continuous professional development.
Dr. Enright and the team have been nominated for numerous awards including, the Irish Dentistry Awards and most recently nominated for Best Dental Team, Colgate Caring Dentist 2022 and Colgate Caring Dental Team 2022 for their outstanding work in the local community.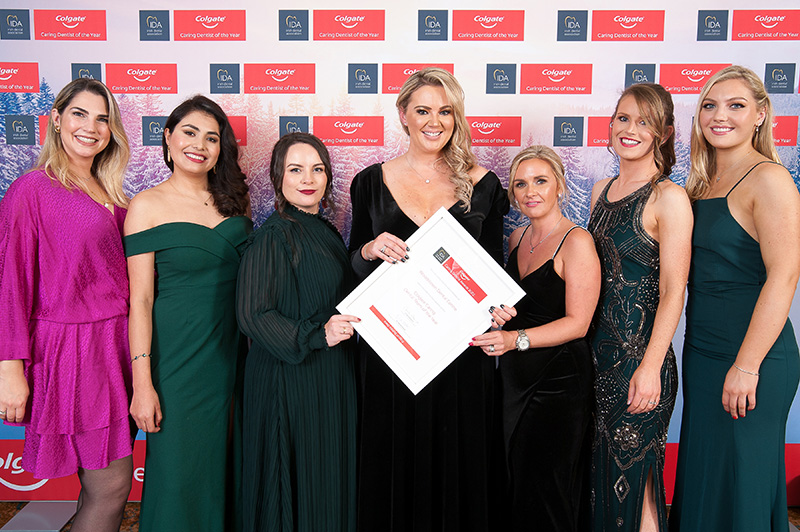 Reviews
★ ★ ★ ★ ★
I had to get an emergency dental procedure yesterday and was very nervous and anxious about it: I couldn't recommend Sarah Enright and her team more strongly. I was treated with so much care and attention by the team: Sarah is an amazing Dentist – she has a gentle, supportive and very empathetic manner which is so helpful for those of us who are nervous of Dentists in general. The surroundings are very comfortable and calming and it was the most positive Dental experience I have ever had. It's a very definite 5 stars from me and if there were 10 stars to give Id give them!
★ ★ ★ ★ ★
Dr. Anna Foley is incredible. She looked after my Mam who was initially very nervous about going to the dentist. She has a kind, calming and caring approach to her customers and made my her feel very at ease instantly.
★ ★ ★ ★ ★
Hadn't been to the dentist in years, Anna was lovely, put me at my ease. Had several back fillings and after whitening my front teeth she matched the four new fillings in the front perfectly. She's a perfectionist and I'd highly recommend her.