Children's Dental Care
Children are welcome at Woodstown Dental Centre! Children's dentistry Knocklyon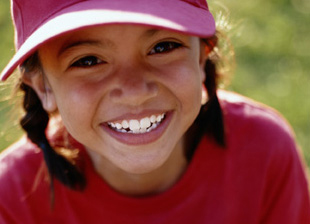 Healthy teeth and happy smiles.
Dr. Enright provides treatment for children in a very child-friendly manner. All procedures will be explained terms the child can understand. If parents have any questions regarding their childrens oral health, they are more than welcome to ask Dr. Enright. Take a look at our kiddies waiting section!
Woodstown Dental Centre offers child-friendly dentistry.
Sealants
Sealants are plastic white/clear coatings which are placed over the pits and fissures of certain teeth.
These are recommended after six years of age on the first permenant molar teeth. These protect the teeth from decay.
Tips for Children's Oral Hygiene
We recommend that you bring your child along to the dentist as early as possible.
Generally dental care is required from the age of 4 onwards. This will allow the dentist to assess your childs teeth and ensure that oral hygiene is adequate, by bringing your child along at such an early age it gives them a chance to become familiar with the dentist. Dr. Enright operates in a child friendly manner, explanations of treatments will be carried out in easily understood terms. Dr. Enright will tailor the advice required to your childs needs.
Brushing
We recommend that babies teeth and gums are cleaned after feeds using water only with a soft brush or washcloth.
Children between one and two years of age use a soft toothbrush or clean washcloth only with water twice a day.
After the age of two, a fluoride toothpaste is recommended, but limiting the amount to a small pea sized amount on a soft brush.
Children must brush twice a daily (morning and just prior to bed time)and adults should ensure that the paste is spat out after each brushing session so that none is swallowed.
Prevention and Care
Chidren should not eat sugary snacks and limit eating sugary food to meal times.
Certainly, children should not eat sugary food before bed time.
Children must also be careful on their intake of acidic drinks as these are a major source of erosion to teeth.
By visiting the dentist, any problems with tooth decay or tooth erosion can be spotted early and therefore treated early.